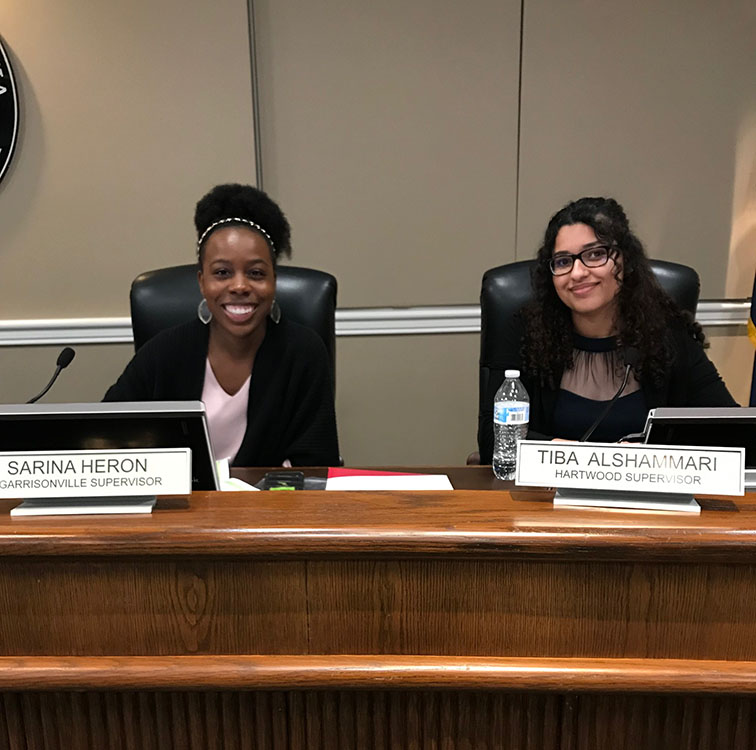 On April 18, students from all five Stafford County high schools visited the George L. Gordon Jr. Government Center to shadow several government departments and employees.
The day began with a welcome in the boardroom from Supervisor Coen. Coen placed a heavy emphasis on the need for young people to know and understand their local government and how it operates.
After the greeting, students toured the Stafford Armed Services Memorial which features an American flag, names of wars that Americans have fought in from the Revolutionary War to the present conflicts in the Middle East, and a stone monument of American soldiers in uniform for each of the wars.
Sarina Heron ('19) and Tiba Alshammari ('19) were supervisors for the day and participated in a mock board meeting. The discussion was centered around a proposed sports complex that would be built near Stafford High School.
Heron was able to learn many responsibilities and processes that the board of supervisors go through regularly.
"I was able to learn first hand how the board of supervisors conduct their meetings, which happen biweekly," Heron said. "Also, how the county adopts ordinances and the terminology involved to make the meetings run efficiently."
Alshammari chose to be a supervisor for the day because she was curious about how government decisions were made in Stafford.
"I had an idea of what it would look like from all the governmental simulations we do in AP US Government with Mr. Coen, but I wanted to see it with my own eyes," Alshammari said. "Also, I've always been interested in the decision-making process, as it not only shapes the policies, but it also shapes the community as a whole."
Alshammari's favorite moment from the day was the mock board meeting.
"It was very interesting to hear other board members' concerns as they brought up very interesting new perspectives," Alshammari said. "I also liked the part in which the audience was allowed to ask questions because I was able to hear their concerns regarding this matter as well."
As the organizer of this event, Mr. Coen believes that this event helps educate students about local government.
"While much attention is placed on the national level, local government impacts people's lives directly, and they have the ability to influence it," Coen said. "By immersing the students into how local government works, they experience its impact in their lives and perhaps consider a career in these fields."