The Forge Phenoms
Tim Scott and Gary Jennings, former Colonial Forge football greats, were a different breed from the day they stepped foot on the Colonial Forge campus.
Football at Forge gave these two phenomenal athletes an outlet and rare opportunity to develop habits and relationships that would stay with them as they moved on to the next step in their lives.
"My time at Forge was definitely filled with great memories. I developed many relationships with people that I'm still friends with to this day," Jennings said.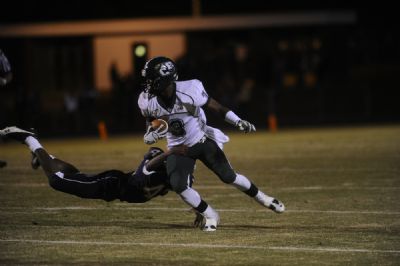 "When I got to Forge, it was the same year Coach Brown got there. Between Coach Big (Bill) Brown, John Brown, [Antonio] Howard and [Darryl] Overton, I was basically getting a head start on college coaching. The wisdom that all of them brought to the table was incredible and I couldn't have asked for any other coaching staff," Scott said.
Scott's football experience at Forge was at a time when the program was just starting to break onto the statewide scene. In addition to playing for a VHSL Hall of Fame coach, Bill Brown, Scott had the luxury of playing alongside arguably the most talented team to ever come through Forge.
"We were blessed to have so many athletes in the years I was at Forge, and it helped us have recognition throughout the state," Scott said.
And recognition throughout the state they had. They were ranked number 1 in Virginia for a large portion of the 2010 season, Scott's senior year, and featured a bevy of players who went on the play college football including Division 1 recruits Eric and Blake Frohnapfel (Marshall University) as well as Nick Easter (William and Mary). But the star of the team was Scott, who wound up taking his talents to the University of North Carolina before embarking on a journeyman career in the NFL that has included stops with the Cowboys, Browns, Redskins and Giants.
Jennings on the other hand, had the rare opportunity to be apart of two of the most memorable moments in Colonial Forge athletics history.
During the 2013 football season, Jennings played a vital role in the Eagle's regional semifinal win over an Ocean Lakes squad that featured numerous Division 1 recruits and was predicted by many across Virginia to be the state champions. With the 23-20 win, the Eagles pulled off the impossible and brought the program to heights they had never reached before.
"That win was definitely one to remember. Ocean Lakes had many highly touted recruits and we went in there with a chip on our shoulders and came out with an awesome win. It showed how much talent was on our team and that many of us could compete with the top talent in the nation," Jennings said.
Jennings also had the opportunity to be apart of the first Boys Basketball state championship win in Stafford Country history in 2014 when the Jason John led Eagles pulled off a  58-54 win over long time state powerhouse, Landstown.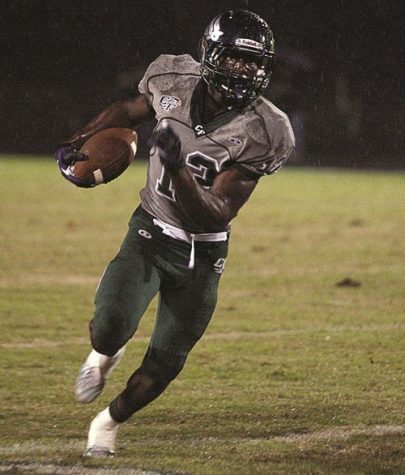 "Winning that state championship was one of the most exciting journeys I've ever been apart of. That team was the definition of a brotherhood and we were tightly knit. We worked extremely hard every day and sacrificed a lot to become the best team in the state," Jennings said.
Jennings future now appears to have the NFL draft in play as he enters his senior season at West Virginia. After two years of relative anonymity aside from the occasional punt return, Jennings had a breakout season in Morgantown last year, becoming the leading receiver in Dana Holgorsen's offensive juggernaut.
"My time at WVU has been a journey that has tested me and taught me a lot of lessons. The overall experience at WVU is without a doubt one of the most fun environments you can be around," Jennings said.
Scott paved the way for athletes at Forge and now Jennings has a chance to put the school's name in a stratosphere it has never touched, an opportunity he doesn't take for granted.
"My main advice to young athletes is in order to become successful is that there are some sacrifices you'll have to make," Jennings said. "You may have to cut off some people and portions of your life to perfect your craft, something I've done in both high school college all so I can be the best I can possibly be."