Jaime Filson
A Sit-Down with Ms. Cover-Tucci About Her Love of Derby
Q: What is roller derby?
A: I love Roller derby. It is a crazy sport that could be most closely compared to rugby on wheels without a ball, because one of the positions called a jammer. There's the ball, that's the item you score with is one of the players.
Q: How did you discover roller derby?
A: Well, I found out about the sport through the movie Whip It, if you've never seen that it's a great movie. But then I was downtown at Oktoberfest in downtown Fredericksburg and one of the players gave me a flier to try out. I was like, oh, this is interesting. And so I went and learned how to skate. I'd skate as a little kid but needed to learn how to skate better before the tryout.
Q: Why is roller derby so important to you?
A: I love the competitive sports atmosphere. I'm a very competitive person, but roller derby is a really unique community where people can be exactly who they are, you don't have to apologize for who you are in roller derby. We are a very open loving community that accepts all people.
I really love that. It's something where people can just come together and we play roller derby and we do our best and we have a lot of fun. It's highly competitive injury is really likely, but it's awesome. You know, it's a really great thing to just go and do when you're frustrated or upset or just had a bad day, man going and exercising is like the best feeling in the world to relieve stress.
It's so important to me because I feel like it's important to provide that kind of a space for women in our society where women don't necessarily have to be demure and polite, and you avoid the stereotypes. It is very anti-stereotypical, you know, just go.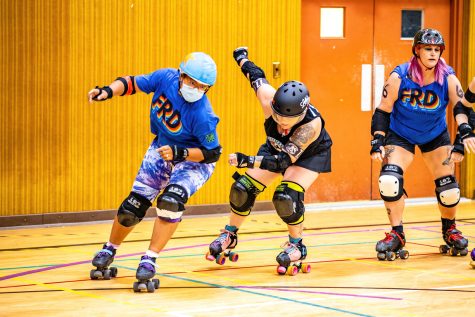 Q: Would you say roller derby has helped you find yourself or find a place for you to be?
A: Yeah, I mean, originally theater was the one thing that I always kind of looked to and was where I really found out who I was, but as we grow and change into adults, sometimes you kind of lose who you are in the fact that you're a mother or a teacher, and it's the one thing that I can really do to focus on myself as Lisa.
It's the one thing where I can really go and focus on who I am as myself. You know, I'm not taking care of anybody else there. They do say that I'm like the team mom but it's focused on me, my achievements, and what I'm doing.
Q: What are some personal and team goals you have?
A: So this year, I achieved one of my biggest goals, to make the Virginia all-star team which was a big deal for me. My next goal is to play at the Battle of the All Stars it's held once a year. I didn't roster for that this year, but I'm really hoping to next year with Virginia all-star team.
For the Fredericksburg roller derby, I'm the President, and the big goal there was to become a safe space for all women, and nonbinary people, and we did that. So now my goal is to just keep that going and make our league something that people in the Fredericksburg area can look to, and they're out there helping all kinds of women, and helping all kinds of people. So I just want us to become a force for good in our community.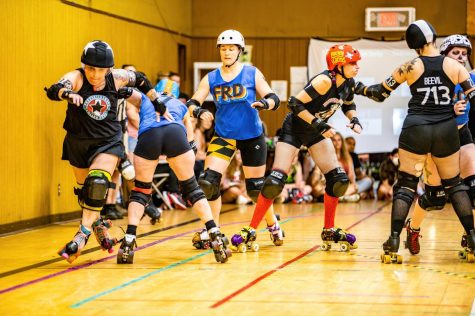 Q: Last question: Is there anything you've taken from roller derby and brought into teaching?
A: I would say I had a sense of open-mindedness before, but being in a community like roller derby, you meet and explore relationships with all kinds of people. You really have to be completely and totally open-minded without prejudice. And while I was headed in that direction before, I definitely think that roller derby has taken me farther with acceptance and loving people right where they're at more than I ever could have. So creating a space like that in my classroom is one thing.
Please see our comments policy before posting. https://www.cfhstalon.com/about/comments-policy/