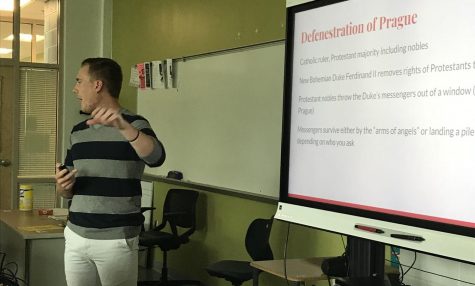 Anne Johnakin, Editor

November 13, 2018
Mr. Chris Grooms, the new history teacher in the Commonwealth Governor's School, went to Virginia Tech, obtaining a Bachelor of History and a Master of Curriculum and Instruction, after graduating from Mountain View in 2013. In high school, Grooms was a student of the Commonwealth Governor's Sch...
Ava Alferez, Reporter

March 12, 2018
The CGS PTO Annual Snowball was held this Saturday, March 10 2018 at The Eagles Lodge Main Ballroom, 201 Cool Springs Road Fredericksburg, Va. The event lasted from 7pm to 11pm, and tickets were sold at the door costing $20 with one hungry tummy treat per attendee.
Kathryn Nucci, Reporter

February 29, 2016
The Commonwealth Governor's School hosts its annual College Forum next Thursday, March 3rd. Interested CGS students can report to the Dodd Auditorium at University of Mary Washington from 7:00 to 8:30 PM to hear advice from the admissions officers of several Virginia universities, including the University...