Outfit Of The Week: 2/16
Lauren Barker ('20) is this week's outfit of the week. Lauren tends to stick to a simple style with dark colors. She pulls off a "less is more" look. Her outfits usually consist of black leggings, either a dark plain top matched with a plaid jacket or a band T-shirt, topped off with her signature black Converse sneakers.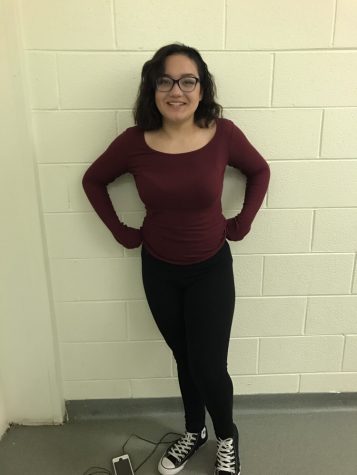 For her Valentine's Day outfit, she stayed true to dark colors. Instead of the classic bright pink, red, or white, she went with a dark burgundy. She paired it with classic black leggings and a pair of Chuck Taylor All Star Converse. I personally can't pull off a simple style. I have to pair jewelry with my outfits to make them look right. I admire the girls and guys who choose plain clothing and pull it off.
Lauren is someone I look to for style inspiration. I aspire for the "less is more" style trend and try different things to try and make it work for me. Lauren is just one of the lucky few who can put on leggings and a plain shirt and rock it.
Her burgundy pullover was from Kohl's  ($10). The black leggings are from Forever 21 ($3-4). Her Chuck Taylor All Star black Converse are from Famous Footwear ($54.99).