Cheap Eateries: Five Guys vs. Cook Out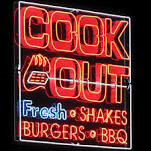 Famous for their burgers and fries, Five Guys dominates the market for a higher-end burger while still being put into the fast food category. However, if you live on the eastern side of the country somewhere between Virginia, Mississippi, and Georgia, you have another option called Cook Out.
A Five Guys hamburger is $6.99 with majority of their toppings free. A Cook Out hamburger is $2.99, and the only topping you have to pay for is tomatoes, which are 10 cents. You could get the combo at Cook Out which includes a burger or their other entree options, two sides, and a drink for $4.99.
Five Guys has burgers, hot dogs, other sandwiches and fries on their menu. Cook Out has burgers, hot dogs, sandwiches, pork BBQ, wraps, chicken strips, fries, hush puppies, and onion rings.
Cook Out has a lot more options to eat and is way cheaper, but Five Guys' quality of food is much better. They have bigger, fresher burgers, and tastier fries.
They both have great food but if you are on a budget, Cook Out may be your new go to spot.