Reaching For Diversity
The 2022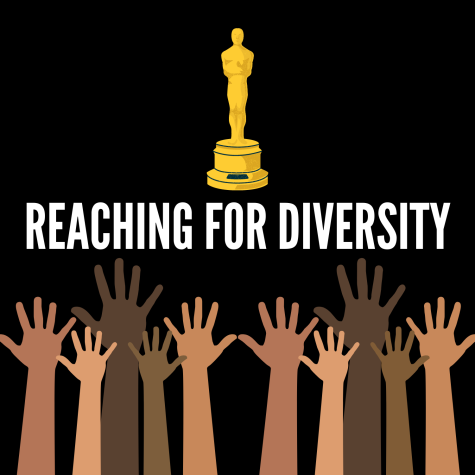 Oscars have proven to be one of the most inclusive and entertaining awards shows we've had in a while. Beautiful performances by; Beyoncé, Billie Eilish, Reba McEntire, and songs from Best Animated Feature Film Winner Encanto had the audience jumping out of their seats.
Due to controversies surrounding the show, it's been without a host for three consecutive years. Wanda Sykes, Regina Hall, and Amy Schumer brought back the tradition with jokes and surprises throughout the night. 
The Godfather celebrated its 50th anniversary with a speech from director Francis Ford Coppola with actors Robert De Niro and Al Pacino. Coppola praised the legends that helped work on the film like the author of the Godfather books Mario Puza and late producer Robert Evans. He ended his speech by showing support for Ukraine with the ongoing war with Russia. 
In 2015, after the Oscar nominees were announced, the hashtag #OscarsSoWhite started trending on Twitter. The hashtag started after the public noticed the nominees were mostly white.  An online wildfire began and as a result,  both the Academy Awards and Hollywood was forced to reflect on their severe lack of diversity. Since then, we've seen more diverse films and actors on the Oscars stage, such as Jordan Peele's 2017 hit Get Out, and Bong Joon-ho's Parasite which both won Oscar awards for Best Director.
Even though the Academy Awards are slowly creeping towards a more inclusive space, there are still many habits they have yet to break. 
Insider released an article stating that in the last decade 89% of nominations went to white actors and actresses. After the criticism in 2015, the Academy has promised to include more diverse nominees. This year's Oscars began with Ariana DeBose becoming the first Afro-Latina and queer actor to win an Oscar. DeBose's performance in Steven Spielberg's adaptation of West Side Story landed her an award for Best Supporting Actress. CODA actor Troy Kotsur also made history being the second deaf actor to win Best Supporting Actor following his CODA co-star Marlee Matlin.
While these achievements are to be celebrated, the academy has a long way to go in terms of inclusion. Seejane reports that 93% of writers in their most recent writing room had no deaf or disabled writers and 25.3% had no LGBTQIA+ writers. This correlates with the staggeringly low number of disabled and queer representation in Hollywood. 
In spite of the Oscars' 94 years of production, only three women have won in the Best Director category. This includes this year's winner Jane Campion won for her work in The Power of the Dog. This outrageous statistic follows an incredibly present trend for women in media. The Bechdel Test is a good example of this trend. It tests movies based on three categories, having at least two named female characters, the two characters have talked to each other, and the conversation was about something other than a man. On the Bechdel Test site which has looked at over 9000 movies, only 57% of all movies check all 3 boxes. 
The Oscars tend to give genres like sci-fi and fantasy minor awards. Dune is a perfect example of this. This past Oscars Dune won 6 awards out of its 10 nominations, with none of them belonging to the big five. Only 2 fantasy movies have won Best Picture, those being The Lord of the Rings: The Return of the King (2003) and The Shape of Water (2017). Sci-fi has yet to win in that category. 
Though this year's Academy Awards was filled with memorable moments, one is sure to go down in Oscar history. While presenting an award, Chris Rock made a joke about Will Smith's wife Jada Pinkett Smith's hair, which is shaved due to her having alopecia. This prompted Will to rush on stage to smack him. He then went on to win Best Actor for his role in King Richard. 
During his acceptance speech, he talked about being a beacon for love and the importance of family. 
Besides its lack of diversity and disregard of female directors, Hollywood continues to look toward the future for a better more inclusive industry.