Kanye (West) Goes South
Top 9 worst and most controversial moments from the rapper formerly known as Kanye West.
The top 9 worst and most controversial moments from the rapper formerly known as Kanye West
1. Reinventing himself
In Oct. 2021, the rapper, formerly known as Kanye Omani West officially changed his legal name to simply just Ye. "There being no objections, the petition for change of name is granted," Michelle Williams, the judge in court said. Ye claimed to have filed the name change petition for "personal reasons" more specifically, "I believe 'Ye' is the most commonly used word in the Bible, and in the Bible it means you. So I'm you, I'm us," Ye said.
2. Hitler's biggest fan
In an almost 3-hour long interview with conspiracy theorist and radio show host Alex Jones, Ye repeatedly made comments praising Hitler by saying things such as "I like Hitler," or "I love Jewish people, but I also love Nazis." Because the interview was live-streamed, Ye went very viral, very fast. According to Twitter trending topics and Google trends, searches containing the words "Kanye," "Infowars," and "Antisemitic" spiked during the interview. Later that day Ye took it a step further and posted a picture of a swastika inside the Star of David on Twitter, which was soon blocked due to a violation of Twitter's rules. Owner of Twitter, Elon Musk, made it very clear that he did not approve of Ye's anti-semitic comments on the platform. "[Ye] again violated our rule against incitement to violence. Account will be suspended." Musk said in reply to other users' queries about Ye's status on Twitter.
3. "Death con 3 on Jewish people"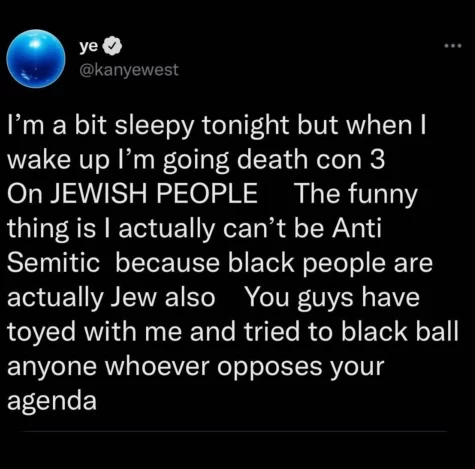 Ye's anti-semitic statements started in 2018, when he reportedly wanted to name his 2018 album "Hitler." After lots of attacks from the internet for this statement, you would think he would have learned his lesson, but you thought wrong. Ye posted many tweets saying things like "I see good things about Hitler. I love everyone." Because of these tweets, Ye experienced extreme backlash from the media, other celebrities, and the Jewish community and was also temporarily banned from Twitter and Instagram. 
After finally being unbanned and allowed back on his social media platforms, he tweeted once again "I'm a bit sleepy tonight but when I wake up I'm going death con 3 on JEWISH PEOPLE." In an effort to defend his actions, Ye added, "The funny thing is I actually can't be anti-semitic because Black people are actually Jews."
4. Hurricane Kanye
After Hurricane Katrina destroyed many parts of Louisiana in 2005, NBC news gathered celebrities from all areas of expertise to raise money for the victims impacted by the devastating storm. Drawing 8.5 million worldwide viewers and raising a reported $50 Million, is sadly not what the program is remembered for over 15 years later. Hosted by Matt Lauer, the fundraiser is only remembered for one thing, Ye blankly staring into the NBC news camera on live television and saying "George Bush doesn't care about Black people." This was the first of many times that Ye publicly spoke his mind, no matter how off-topic or controversial it could be.
5. Kanye vs. Taylor Swift
In 2009, Ye ran on stage during Taylor Swift's speech at the MTV music video awards ceremony to announce that he believes Beyonce should have won the award instead of Taylor Swift for her song "Single Ladies." When asked about it later in an interview with Nick Cannon, Ye stated "If God didn't want me to run on stage and say, 'Beyoncé had the best video,' he wouldn't have sat me in the front row."
6. Family man or Stalker?
During his messy divorce from his now ex-wife, Kim Kardashian, Ye bought a $4.5 million home on a 1-acre plot directly across the street from the Kardashians' house. He claimed the only reason he bought the home was to be closer to his kids, as he and Kim are now co-parenting, but suspicions surfaced when he posted tweets about how much he missed Kim and prayed that she would take him back so they could be a whole family again.
7. The decline of the Yecosystem
One of the many consequences of Ye's anti-Semitic statements was being suddenly dropped from many of his brand deals, including Gap, Balenciaga, Vogue, TJMAXX, Skechers, Foot Locker, and most significantly Adidas. After cutting ties, Adidas issued a statement saying they "do not tolerate antisemitism and any other sort of hate speech," and proceeded to call Ye's actions "unacceptable, hateful, and dangerous." Adidas reportedly sued Ye for $275 million in advertising fees and had all his bank accounts frozen.
8. Beefing with Pete Davidson 
In Jan. 2022, Ye released a music video for his hit song "Eazy" that depicted himself kidnapping, decapitating, burning, and burying a claymation model of his ex-wife's boyfriend at the time, Pete Davidson. Along with the violent visuals shown in the music video, the diss track also includes many lines throwing shade at Davidson and Kim. Ye raps on the track, "we havin' the best divorce ever / If we go to court, we'll go to court together," and continuously references the relationship between Kim and Pete, and himself and Kim.
9. Kanye 4 prez.
During the 2020 presidential elections, Ye decided to enter the ballot and run for president. He qualified for the ballot in 12 states and went to court for ballot access in another five. Ye concluded his campaign on Nov. 4 after receiving a rough 70,000 votes in the states he was allowed ballot access in. This same day, Ye announced he would be running again in the upcoming 2024 presidential elections with more support and a better plan of action. The rapper has recently teamed up with far-right-wing personality Milo Yiannopoulos. The two are both known for their controversial and offensive public remarks and have shared experiences of being attacked by the media. In a video posted on Ye's recently unbanned Twitter account, a cameraman asks Ye "So you plan on running?" Ye responded, "Yes. It's simple 'cause ain't nobody can tell me, you know, 'you should say this, you shouldn't say that,' you know? It's just we're moving towards the future."