National Merit Scholarship Corporation Names Nine Forge Students
Colonial Forge has been recognized as one of the top in the nation for various reasons, but today one of recognition stood out among the rest. Today, Sydney Bertrand, Zachary Conley, Sierra Espeland, Elizabeth Moyer, Kathryn Nucci, Deirdre Pethokoukis, and George Webb-Watkins, all seniors, have been named Commended Students by the 2017 National Merit Scholarship Program.
These students have placed among the top 5 percent of the 1.6 million who entered the competition. 34,000 students were selected in total to receive the Letter of Commendation.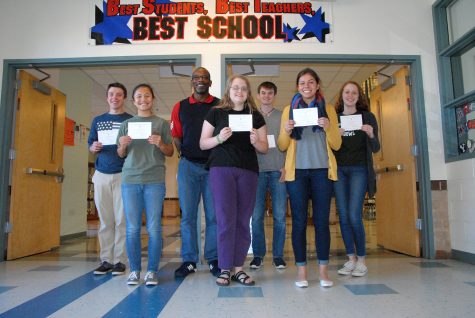 Principal Gregory Daniel spoke very well of these intelligent students and was very proud while reading of the scripts to the student's letting them know of their accomplishments smiles and surprise filled the room.
"We have a lot of great students… [These] privileged students stand out and give all they've got to excel and perform at such a high level for academics," Daniel said after hearing the good news. "One student [Natalie Burlew, '19] was selected as a semifinalist."
"I'm not so much surprised, I am more shocked this is happening to me," Burlew said. "I was not expecting this today. Taking the test was natural since I never really had a weak spot in any of the areas the test [focused] on."
Natalie also said her favorite class was Engineering and Design, and she will likely attend college in the Northeast and study architecture.