Student Tutors Visit Annual CAPTA Conference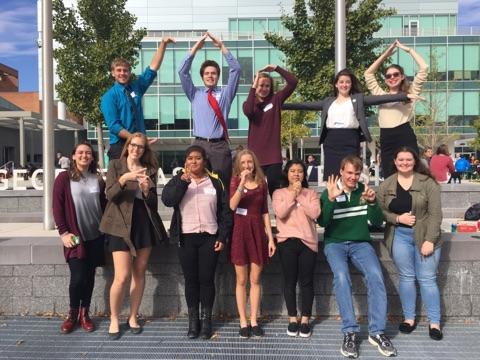 Hang on for a minute...we're trying to find some more stories you might like.
Last Friday, November 11, twelve Writing Center tutors participated in a conference at George Mason University, organized by the Capital Area Peer Tutoring Association (CAPTA). Schools from 10 different states took field trips to GMU to attend the conference, which was composed of student presentations, including several by Colonial Forge students.
The theme for this years CAPTA conference was "Vision and Revision in the Center," and options for presentations were fairly wide-open; most were interactive and involved techniques or ideas that tutoring centers from others schools could take back and implement.
Bryce Trant ('17), one of the few tutors who attended the CAPTA conference both this year and last year, described this year's experience as a lot more comfortable.
"We had the opportunity to compose our schedules this year, and that made things a lot easier," Trant said. "It was fun hanging out with other tutors from our school and from other schools."
Trant's co-presenter, Bryant Ricks ('18), agreed, saying, "CAPTA this year was so much fun; the presentations I attended had a lot of good ideas and positive things that I think we can bring back to the Writing Center at Forge. I got to be myself when I was presenting, which made it really easy"
"Easy" is probably the best way to describe the presentation itself, when compared to the hard work and dedication required to put the presentation together.
"To propose a presentation from the conference, first you have to have an idea about what you want to do and brainstorm. That'll help you know what research you need," said Diana Shoup ('17), one of the nine presenters from the Writing Center here at Forge. "Then you have to put your research together in a way that makes sense and write a proposal. We sent our proposals to CAPTA and after they were accepted, we worked on developing presentations."
This was the most time-consuming part. These students have been working on their presentations since last May, when CAPTA sent them an acceptance letter and invitation to the conference via email. Since then, they have each worked diligently, either solo or in pairs, to develop and refine their presentations.
Their hard work paid off, as all four presentations went off without a hitch.
"It went better than expected. I think we killed it. They laughed at all of our jokes and everything," said Charles Gentry ('17), who presented with Alexis Smith ('18), and was clearly pleased with their performance.
Aside from sharing their own presentations, the students also got to attend three other presentations of their choice, developed by students from other schools. Each presentation was in a room of thirty to forty people, and ranged from 20 – 45 minutes.
Jessica Irving ('19), Nicole Campos ('19) and Noelle Briggs ('19) all attended the conference without presenting, but they didn't view this as missing out, they saw it as an advantage.
"I think we can use this year to get ideas for next year" said Campos.
"Coming without presenting introduces us to something we don't often get to experience," Irving said, "I mean how many people can say they've been to something like this?"
Her enthusiasm was shared by Mrs. Hinkley, the founder of the Colonial Forge Writing Center and teacher of its classroom component, Advanced Composition.
"Everytime I come back from a professional conference like this, I have a renewed energy and purpose. It's invigorating to take all of the new ideas and incorporate them." Hinkley said, "I think it's a really good opportunity for our tutors to network with other people who are passionate about the same thing."
The CAPTA conference is the perfect environment for tutors to express this passion, and also facilitated a lot of opportunities for attendees to interact and have fun with one another. Bryant Ricks didn't hesitate to use the welcoming environment as an opportunity to take a selfie with Amber Jensen, the CAPTA president, and the several hundred attendees.
Hinkley plans to have her students develop presentations again this spring for next year's CAPTA conference to continue to learn about tutoring techniques and improve our very own Writing Center.