JROTC Drills Their Way Up The Ladder
Hang on for a minute...we're trying to find some more stories you might like.
Filing in line with cordial formality is the Colonial Forge Eagle Battalion. Members of both the Drill Team as well as the Color Guard competed at Spotsylvania Senior High School on February 25 2017 for a chance to place in one of the many challenges.  
These challenges range from armed performances to unarmed, in their own respects. Within these challenges students – or cadets, as they're referred to – are urged to compete in small groups of six, known as a squad, or larger groups of close to sixteen, known as a platoon. In such occasions, these groups have a leader that not only memorizes a list of commands that can be over 50 long, but also call the command at just the right time so that everyone understands exactly what to do and with all eyes on the commander to perform properly.
Fortunately enough, the Colonial Forge Eagles were prosperous enough to outperform schools from North Stafford all the way to Fishburne Military School, a high school that came all the way from Waynesboro Virginia, as they came together to show what they've got.
Andy Scott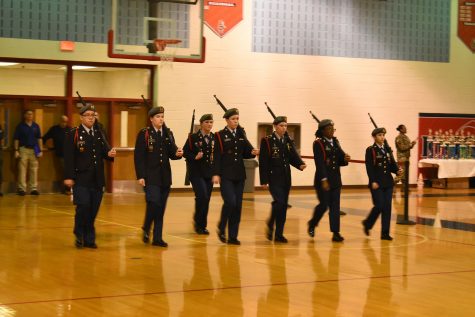 Commanded by Cadet Captain Laura Miller ('17), the Eagle Battalion placed third in the armed squad drill component. It is very interesting to say the least; these cadets have started from almost nothing to becoming a sharp new team, competing against teams that have had years of experience between them.
The trophies earned in this competition, as well as the numerous competitions that the Eagle Battalion has partaken in the past, are all on display in the JROTC classrooms.