Duo Has Creative Twist On Adopt-A-Senior Day
Around the school, it becomes a competition to see who can think of the most creative Adopt-A-Senior costume. Seniors wore everything from over-sized diapers to duck costumes as the underclassmen paraded their seniors around the hallway, making them perform any stunt they could think of.
Although seniors are traditionally the only ones to dress up, Nell Hatton ('19) and Claudio Manno ('17) took a unique approach to this day as they both decided to dress up.
"I was Princess Fiona, and Claudio was Lord Farquaad from Shrek," Hatton said.    
These were not spur-of-the-moment costumes either, as this setup had been their plan for a while.
"Claudio thought of it last year," Hatton said. "We've been planning this for a long time."
By having an out-of-the-box idea, the pair garnered more attention than most throughout the day.
"Many people told us we 'won' adopt a senior day," Manno said.
The costumes also had an added personal touch, because Claudio's Lord Farquaad outfit was handmade by his mom.
"She made it from an old dress of hers and a shower cap covered with fabric and one of my old wigs," Hatton said.
Nell managed to get her Princess Fiona costume off of Amazon for eight dollars, though the shoes and temperature of the costume were anything but comfortable.
"They were new jazz shoes that I hadn't broken in, so I got really bad blisters," Hatton said. "Other than that, we both got super sweaty from the wigs and all t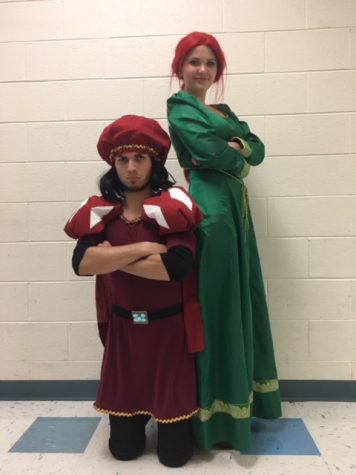 he clothes we were wearing."
Although the costumes may not have been the most comfortable, Nell still made sure to have Claudio act out anything she could think of on the spot.
"I was given some instructions to say certain things in her Spanish class when other things were said, but I didn't have to do them very much," Manno said. "I did however have to 'hammer time…' very poorly."
"The best part of the day was probably going to Tlumack's class and seeing his reaction, as well as all of my teachers' reactions," Hatton said.