From Teaching To Poker: Meet John Kopcak
From being a teacher during the day to a poker player at night, John Kopcak has a very fascinating life. Kopcak was a substitute teacher at Forge for the past couple of years, but has now transitioned to becoming a full time teacher. Currently he teaches English 12, Oral Communications, and Dual Enrollment English. He also is the club supervisor for the National Honor Society.
"I love this school. I have subbed here and I always enjoyed it," Kopcak said. "I subbed so much, I figured why not be here everyday."
Kopcak grew up in Herminie, Pennsylvania, which is a half hour away from Pittsburgh. He grew up thinking he always wanted to be a teacher, but finally decided to become one in high school. After high school, he attended California University of Pennsylvania. His parents ultimately had an influence his life decision.
"My mother was an elementary teacher and my father owned a bakery," Kopcak said.
Kopcak taught before coming to Forge. He worked from 1972 to 1977 at Aberdeen High School in Aberdeen, Maryland, where he held very active roles.
"I taught 9th grade English. I was also the basketball coach, 9th grade, JV Basketball and I was the assistant varsity coach," Kopcak said.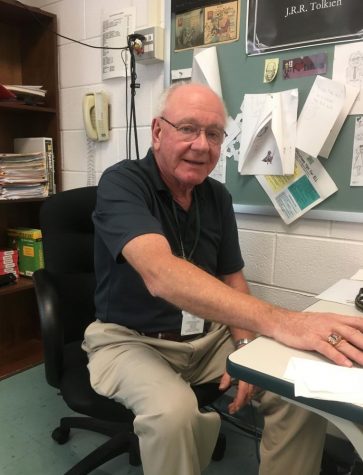 While pausing his teaching career in 1977, he began working for testing organizations.
"I worked for 20 years plus with both Riverside Publishing and 3 years for the Princeton Review. I was an assessment consultant and I helped teachers understand what the testing meant," Kopcak said.
Working at those organizations has given him insight on how to become a better teacher.
"The use of data is so important, but it has to be reliable data. [It] can't just be from bad tests. The better the test, the better the data," Kopcak said.
Although he dedicated himself to his work, he still has his hobbies that he keeps involved with to stay busy.
"[I enjoy playing] poker and watching the Steelers. A bunch of us old timers play every once in awhile. We play once a week, actually, and we each take turns hosting," Kopcak said.
He also played several sports in high school including basketball, football, and he was a very avid snow skier.
He played multiple positions such as tight end in football and center in basketball.
"Back then I used to be considered tall. Actually I was the tallest one on the team in high school."
Even though he is not as able to play football and basketball anymore, he tries his best to stay active, "I still dabble around with golf, that is one of the few things I can still do."
Kopcak has also volunteered at National PGA competitions for the past nine years. He is a marshall,which means he is responsible for keeping the tournament run smoothly. In addition, he has been able to meet several famous pro golfers.
"I have met Arnold Palmer, Tiger Woods, Jordan Spieth, Jason Day, Dustin Johnson," Kopcak said. The reason he volunteers is because, "I am a real golf junkie and it is fun to be inside the ropes."
According to Kopcak, the biggest difference in teaching in the seventies to now is the technology.
His opinion on it is mixed. "It can be a pain in the neck and it can be a real help. It depends on how it's used," Kopcak said.
He has seen no major difference in students today.
"Kids were great then and kids are great now. I think most kids want to learn," Kopcak said. In regards to the high amount of energy teenagers has he said, "I don't think there is any wildness. I respect kids, and I think if you respect them they respect you. I have wonderful classes, and I'm just happy as can be."