Bound for Colonial Forge: Meet Mr. Akintounde
With an influx of new teachers, there are lots of new faces around Colonial Forge. One of these is Mr. Abimbola Akintounde, a new Algebra 1 and geometry teacher here at Forge. He has taught in Virginia, D.C., and Florida previously and is now in his seventh year of teaching here at Forge.
His journey to becoming a teacher here began in West Virginia where he worked towards his graduate degree.
"I actually wanted to become a teacher through my passion that aroused with my working with first time generation students in Upward Bound while in West Virginia," Akintounde said.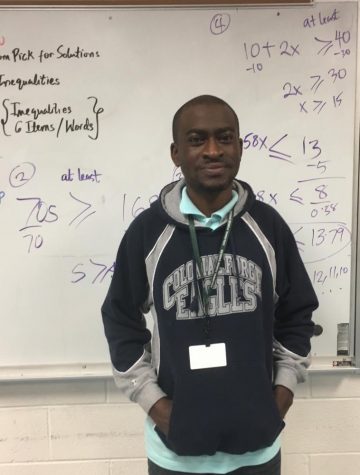 Upward Bound is a program that focuses on helping students in rural or inner city schools with math to help prepare them for the SATs and ACTs that are necessary for getting into college.
"These kids actually have a passion for college and they struggled through the financial challenges," Akintounde said. "So we provided support for them in terms of mentoring. They do summer programs in school where they come into the college and actually live on campus and you just prepare them for college courses."
The transition to Forge has been a fairly smooth one for Akintounde, although our early starting times have been something that he has had to get used to.
"The time is kind of different from Loudon and every other school… schools don't let out at 2:20 in most places," Akintounde said. According to the Loudoun County Public Schools website, the high schools start at 9:15 and do not let out until 4:03.
New teachers are also assigned mentors so that they have a "go-to" teacher to ask for help as they adjust to Colonial Forge, with Mrs. Rebholz being Akintounde's mentor.
"She's been very great," Akintounde said. "She supports me with a lot of resources and she asks a lot of questions also and checks on me after school."
A few weeks in, Mr. Akintounde is feeling good about his time here so far.
"It's different, but I enjoy it," Akintounde said. "It's fun to be here. I enjoy teaching geometry and I enjoy helping kids who had Algebra 1 before in the middle schools and kids who are completely new to Algebra 1 as well."