Getting to Know: Mrs. Wieners
Mrs. Colleen Wieners, Assistant Principal Mr. Jones' assistant, spends her days working on student discipline around Colonial Forge High School. She has been at Forge for eight years, and through the years she has discovered that her favorite parts of the job are dealing with the kids and helping her coworkers.
After graduating high school, she pursued higher education at Essex Community College majoring in Liberal Arts.
From there she became a traffic engineer in Maryland for 21 years, where she designed how roads were built and traffic signals. She then left that profession to have her children. She would later work at a dental office before finding her place here.
As she worked at Forge, one of the highlights of beginning her career here was that her daughter was a student here.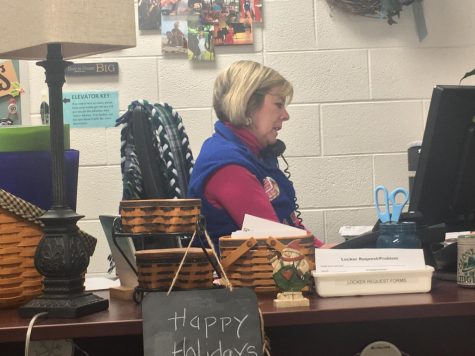 "When I first started, my younger daughter went here. That was nice; we would walk in together," Weiners said.
Over her eight years, she has seen the student enrollment increase, while the number of support staff has decreased. She hopes this will change.
"It's very difficult to do all the administrative tasks in a day without staying past quitting time," Weiners said.
With the decreased staff and many students at the school, it has put a lot of stress on her fellow coworkers and herself trying to keep up with each individual student.
"It worries me though that something will fall through the cracks and fail to get done, or a student that is in need will be overlooked because we weren't able to take the time with them that they needed that particular day," Weiners said.
Her worry demonstrates the real care she has for the students around Forge, where their success she feels as her own.
"I get the most satisfaction out of seeing a student who has struggled with attendance say, I will finally start coming to school because we connected with them on a personal level and they feel a part of the school."