Bridge Over to Bridgewater
Most high school athletes planning on participating in athletics at the collegiate level wait until the fall of their senior to sign. Sam Sharps ('19) decided to take a rare path and recently committed to Bridgewater College as a junior.
Although it may be a more unusual route, Sharps feels comfortable with his decision to attend Bridgewater. He also visited Christopher Newport, Shenandoah, and Alvernia, but felt at home at Bridgewater.
"I just loved it there," Sharps said. "It was far enough away from home to get away but close enough that I could drive home, and I loved all the guys as well. They had a great business program and the proximity to Harrisonburg is great."
Team camaraderie is a crucial part of being on a sports team and Sharps feels that he has found that component at Bridgewater.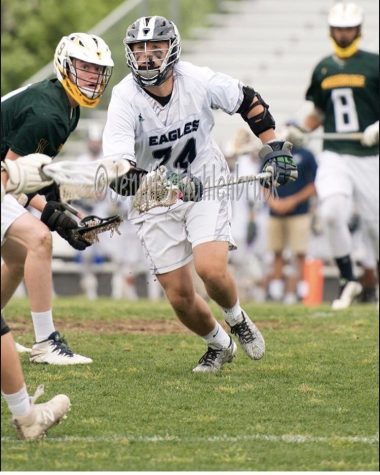 "I'm looking forward to always hanging with the guys on the lacrosse team," Sharps said. "You build great friendships in college when you're on a sports team."
For Sharps, who plays faceoff and midfield,  the school lacrosse season is just beginning and he has big plans for this year.
"My goal is to help get to a state championship and start on first line," Sharps said.
With the pressures of visiting and choosing a college out of the way, Sharps is able to put his focus towards his last year and a half of high school lacrosse.
"I feel a little less stressed because the recruiting process is over now," Sharps said. "But I know I still need to work and get better so I can start when I get [to Bridgewater]."