Franklin Races Forward
Hang on for a minute...we're trying to find some more stories you might like.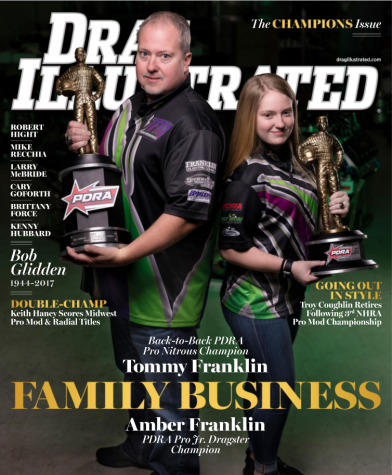 Unlike most sophomores, Amber Franklin ('19), was driving long before fulfilling the requirements for her license. Franklin is a drag racer, like the rest of her family, and spends many of her weekends competing in high-speed motor vehicle races. Recently, the Franklin family was recognized in the most recent issue of Drag Illustrated, a prominent magazine in the drag racing community. A photo of Franklin and her father graced the cover of the magazine, a testament to the family that has competed in this sport for decades.
"My dad's been racing for over thirty years, and he's the one who got me into it," Franklin said, adding that her little sister races too. "My mom used to, but she quit when she had kids. It's better doing it as a family, like, it's not just me. We're a team and we support each other."
Although drag racing is not a particularly common sport among teenagers, Franklin hopes to continue for as long as she can.
"It's taught me a lot about self control, discipline, and sportsmanship. Our whole racing community is so close, we're all like best friends," Franklin said. She radiates love for her sport, so it's no surprise that being on the cover of Drag Illustrated was a surreal experience for Franklin. The best part though, was the surprise of receiving the issue of the magazine and seeing herself on the cover.
"It was really surprising. My dad was told that he was going to be on the cover, but they didn't tell me that I was going to be on the cover with him. They told us they were just going to do a few photos for the article, and then we got the magazine and we were both on the cover and it was so surprising. We didn't know until we actually got the issue. It was unreal honestly." Franklin said, beaming.
Maybe because drag racing is less common than other sports, or because it's not part of high school athletics, most teenagers tend to default to more popular sports. However, Franklin's personal gain from competing in races has been unmatched by any other sport, and she would definitely recommend it to people, saying "It's not a very common sport but once you get involved with it, you don't ever stop."