Swim Team Gears Up for Big Winter
The 2018-19 edition of the Colonial Forge Swim Team is gearing up to be an electric one. With a plethora of returning veterans, the team carries plenty of big meet experience to a program looking to progress into being a major contender.
Returning state meet competitors such as Torii Waisanen ('19) are excited to be coming back for one more run at the Forge. Waisanen, a free, fly and medley swimmer, was honored to recently be voted one of the team captains.
"To be named a captain gives me the feeling that my teammates trust me and believe that I am a good leader, and feel I belong in that role," Waisanen said.
Jordan MacIsaac ('19), another long-standing veteran of Forge Swim as well as a breaststroke and freestyle swimmer, shared a similar sentiment about being voted a captain.
"I really love being a captain, because I love sharing my passion for swimming and spreading team spirit throughout everyone in the program," MacIsaac said.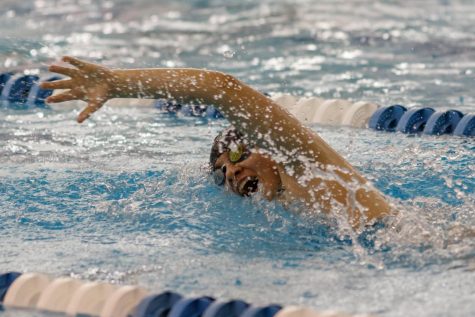 The self-motivated nature of her captains is the exact mentality that Head Coach Bianca West hoped for entering the season. West, a former Colonial Forge swimmer and Old Dominion graduate, has been coaching with school, travel and summer teams in the area since 2011. She recognizes the value in swimmers who are motivated to improve their times every single day.
"Our expectations every year and every meet are to continue to improve individual times in each event. When swimmers improve their time, it sets them up to earn points for that event, which will help us win meets," West said.
For many of the top swimmers, the goal is the state meet.
"One of the biggest goals that we have during the season is to take as many swimmers as we can to the state championship meet," West said. State qualifications are all dependent on individual times pertaining to each event. West has seen improvements in a number of her swimmers early and hopes this will translate to even more qualifiers come the postseason.
"The team is looking great so far. We have a lot returning swimmers who have shown great improvement," West said.
Ultimately, many of the top contenders prefer to take it one day at a time.
"My personal expectations are to improve my times from last year and help anyone who wants to get better," Waisanen said. "We just want to see everybody working hard in and out of the pool while still keeping the fun in the sport."