Lake Alden: the King George Band Taking Over the Fredericksburg Music Scene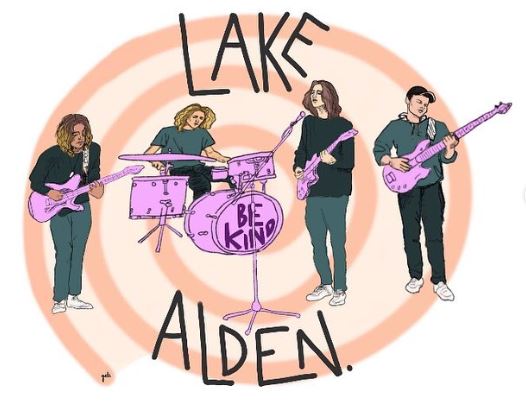 Hang on for a minute...we're trying to find some more stories you might like.
The downtown Fredericksburg music scene has long focused on folk and bluegrass music, with very few artists consisting of and playing for younger generations. Recently, however, venues like Katora Coffee have started welcoming such bands, hosting open mic nights and pre-planned shows. One group, the King George-based band Lake Alden has begun to stand out from the rest, with 3 albums on Spotify and a fan base of Fredericksburg teenagers/ young adults.
Lake Alden consists of guitarist/ vocalist David, bassist Ben, guitarist Cameron, and drummer Jake. It was created in 2015 by David and Jake, with Ben and Cameron joining later on.
"Jake and I, we were in ninth grade together, we just started jamming together, and then we met Cam after a while. We had already started it, we had an album out, but Cam tagged along and then Ben wanted to join a couple months ago," David said.
The band had an old bassist, however, they "kicked him out" because he didn't show up and didn't have the passion possessed by the other members. Ben joined because, as Jake's brother, he was exposed to the band and was familiar with their music and dynamic. David initially played drums, but as the band evolved and members changed, the roles shifted.
Each band member has a prominent musical influence, with the most agreed upon influences being Delta Sleep, From Indian Lakes, as well as the Foo Fighters and Tame Impala. They hope to one day live up the those artists, however, they are still working on developing their sound.
"We're formed, but we're not there yet," Cameron said.
"Our goal is to get as much music out, it's not necessarily about popularity right now. It's just to have fun, really, that's what we started it for," David said in response to Cameron. "We just want to joke around and do stuff. I didn't really know that we could play instruments."
"When we first met David, we had to tape down the strings on his guitar," Ben said, followed by laughter from the other members.
Lake Alden has a song writing process they're developed over the years that is influenced by the previous artists and what they're experienced. Even though it's different each time they make a song, the general process remains the same. They start off with a chord progression developed by Cameron and David, followed by the drums and vocals. The process is concluded with the bass, right after drums.
"It's not an afterthought, but it's last," Jake said, followed by Cameron saying "Still important though" to a chorus of muted agreement.
Similar to their musical influences, each band member has a favourite released  song. David prefers Sick to Feel Relief, while Ben and Jake enjoy Already Trademarked because of the lack of singing.
The band has played many shows over the years. They've had a few bad shows, with the top (or bottom) three being at the King George Community Center, the Colonial Beach Community Center, and an outside show where Cameron's amp stopped working mid-show.
Those bad shows, however, have grown lesser in number as everyone has gotten more comfortable playing to a live audience. The show with the largest turnout was in the St. George's church basement, but what they consider their best was a house show.
"When you play for a little amount of people, I think it's cool because you find more of a reason to play for yourself," Ben said. David agreed, saying "Yeah exactly. Every time we play a show, though, there's new people every time."
In terms of where they wants Lake Alden to end up, members emphatically agreed on "Audiotree!"
"Honestly, we just want to keep making music in private, and eventually get signed," said David. "That's just everybody's dream, I guess. You wanna get on, like, a huge label and have all that money, and tour."
As mentioned, the band can be found on Spotify. Unfortunately, they accidentally posted their first album to another account and the following two albums being posted to the official Lake Alden account. The first account can be found here and the second can be found here.  Despite the issue this poses to exposure, the band remains positive.
"It's kinda cool though because our last two albums are a lot different from the songs on the first one we made" Cameron said.
Their success on the downtown Fredericksburg music scene is impressive- they are up against the many folksy-bluegrass bands that have dominated the area for quite some time. They have a solid Instagram following, allowing them to connect with their audience in ways other bands are unable to do. They play shows in and around Fredericksburg, so give them a follow to find out more.