New Resource Officer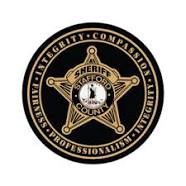 Hang on for a minute...we're trying to find some more stories you might like.
You may have seen a new face around the halls lately. A few weeks ago, Colonial Forge got a new School Resource Officer, Deputy Johnson. Our previous SRO, Deputy Young, received a job promotion as a detective, so he is no longer with CFHS. Deputy Johnson believes she will be here for roughly three weeks until they find another SRO.
"I've been working with the Sheriff's Department for eight years, but I've only been an SRO since September," Deputy Johnson said.
In every job field, people have their different reasons for joining and getting involved.
"Honestly, just giving back and being part of the community is what got me interested in working with the Sheriff's Department," Johnson said.
Being a School Resource Officer presents a variety of different situations with students, most of which are negative. However, that doesn't mean that nothing can be taken out of it.
"So far, my favorite part of being the SRO is the interaction with kids. Of course some are negative, but some are also positive and it's fun," Johnson inserted. "I look forward to getting to talk to the kids here and positively impact their lives. Just the interaction in general, how we're able to talk with each other whether or not they're able to feel that I'm relatable."
If you see her in the halls, don't forget to say hi and talk to her if you have the chance!