Environmental Club Fixes the Nature Trail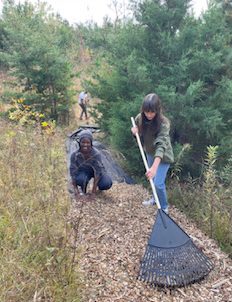 On Oct 12 the environmental club took to the Forge nature trail to make it more accessible to classes who want to spend more time outside.
"The nature trail is an educational site for everyone," said Brooke Drozdowski, club president.
The nature trail didn't exactly need fixing as much as it needed to be finished. What the environmental club started last year is still ongoing but what already had needed to be redone.
"Due to the construction on the tennis courts, parts of it were not doing so well. Fixing the the trail also shows that we care; we care about nature and its relationship with society," Brooke said.
The club volunteers placed down mulch tarps and landscaping to make it easier for walking. They also worked on repairing the stairs.
The club also plans on working on it more over the course of the year.
"I am contacting clubs and honors societies that can help out in any way. We want informational signs about the amazing life that people can find out on the nature trail, in addition to a water testing station and generally expanding the trail," she said.
So why is the nature trial important?
"To give teachers an opportunity to take students outside and actually show them what they learn in science classes. There is no better way to learn than to actually see it," said Mr. Konrad Heller, advisor for the environmental club.
Now the nature trail is now in better shape for students to enjoy.