Forensics Club Wins First
At 7:30 on a Saturday morning, Kyle Nguyen sits on a school bus in a suit and tie, hoping to win sweeps for his last forensic competition of his high school career.
Five hours later, he did.
For the first time, on Feb. 11, Forge Forensics took home the first-place regionals trophy.
Gabriel Octavio ('23) placed first in original oratory, Charlotte Vorder Bruegge ('24) placed first for her dramatic monologue, Lucy Gentry ('24) placed second and Kaitlyn Halepaska ('25) placed third for their comedic monologues. Kyle himself won first place in the impromptu category.
The competition was held at Gar-Field High School on a Saturday morning. Four other schools participated, there being allotted two spots per category for each school.
"It felt so good. I feel like I've been chasing that trophy for the past three years," Kyle Nguyen ('23) said.
"
It felt so good. I feel like I've been chasing that trophy for the past three years
— Kyle Nguyen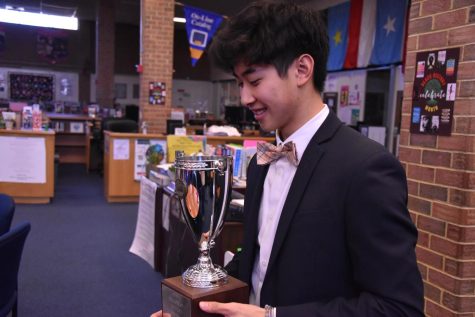 Kyle's passion for the club pushed the team to first place, and how they wanted to be the first team to bring their sponsor, Andrew Carr, the trophy.
"[I'm] very, very, very happy, like ecstatic. It was literally so cool. Kyle is a Senior, and I know he really wanted [to win] and we have another shot because next year, everyone who's a junior has another shot," Lucy said.
At the competition, while waiting to be called into classrooms, Lucy, Charlotte, and Kaitlyn nervously rehearsed their monologues while Gabriel and Kyle discussed their futures at college and last year's regionals in Gar-Field's dimly lit library.
"For last year, I thought it was pretty nerve-wracking, even though I do believe I was far more prepared last year," said.
This past weekend, the Forensics team placed third in Super Regionals. Kyle placed first for impromptu and Charlotte placed second for dramatic monologue, both are going to states.