Swim Setbacks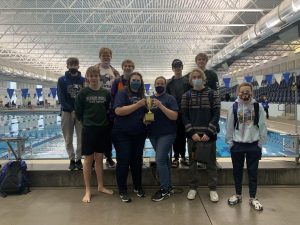 On Jan. 3rd, 2022, the winter storm on Friday dumped over 13 inches of snow on Stafford county. Not only did this affect students, workers, and families, it also affected athletes. 
With upcoming districts, the swim team lost multiple practices, a potentially serious setback.
"Swimming is one of those sports where if you don't go to practice for even a week, then you will lose a lot of your endurance," Jona Han('24) said.
The athletes planned to compete against Riverbend on Jan. 15, but due to the weather the meet was moved to the 17.
After getting back on track and practicing for important competitions, swimmers had to keep in mind that there was another snow storm coming on Friday the 28th. 
"I was ready for districts on Thursday so I was a little mad and sad about it," Isabella Mann('25) said, after learning her meet was canceled, her practice was canceled, and there was a threat of districts being canceled.
Not only did the team lose practices and two tournaments, the team was supposed to have districts on Jan. 28, however due to the snow they were rescheduled to Monday the 31t.
"It's happening and during school, which I don't really like, I need that night so I can just mentally prepare for them," said Emily Harper('22).
Even with missed practices and the snow messing things up, the swim team made their way through districts, and are now moving on to regionals. 
Forge boys came in first with 139 points and girls placed in second with 84 points. The boys will have 8 swimmers representing them in regionals, and the girls will have 6.
Regionals will be held at Jeff Rouse on Feb 5.