Track's Performance at States
Although the hopes were high, the Indoor Track & Field State Championship held last Friday and Saturday, resulted in many injuries and physical as well as emotional stress for the team. Runners who are continuing to adidas Track Nationals are preparing for the next couple weeks.
The team had already experienced injuries earlier in the season, such as Gabby Freeman ('24) who broke her right pinky toe right before the champion season. 
"I was really thinking like, why did this have to happen? I was supposed to run at regionals and states and it really sucked not being able to, but getting to see my teammates have to fill in for me at different relays and still perform well was fun," Gabby said.
Even with some of their top runners out due to injury from previous races, the team was still optimistic about states and continued to train with a hopeful mindset. 
"About a week out we were all pretty confident, everyone was healthy and we thought we had a strong chance at winning states after a good performance at regionals," captain Colby Kynard ('23) said. 
With hopes set high, fellow captain Matt Fisher ('25) agreed with Colby and expressed the team's readiness for the state title.
"We went in thinking we were going to win because we knew we were able to. My coach calculated everything and we had every chance to win the state title for the school for the first time ever," Matt said. 
This was until a couple days prior to the team leaving, top jumper and one of the top sprinters Brian Harris ('25) sprained his MCL while practicing his high jump. Brian was set to perform in four events that weekend.
"I was very confident and feeling great before the injury, because I was supposed to win two of my events. After I landed wrong in the sandpit, I knew it was bad," Brian said.
Although this unexpected event was a setback for the team, they were still hopeful.
"We were all disappointed as a team about the injuries, but we still thought we could go out and get it," Matt Fisher ('25) said.
Running her first event, Alex Hopkins ('25) competed in the Girls 55m Dash.
"Before the race I was nervous, but really excited because of how well I was ranked. I ran and placed second in the finals," Alex Hopkins ('25) said.
Running in her final indoor meet, Nina Tauriac ('23) talks about how she feels she performed after competing in the girls Pole Vault event.
"Personally, I thought I performed well and it might be my senior year, but I just think it's really about having fun in the end. I'm not going to Adidas, because I want to dedicate more time to outdoor track so I can compete at New Balance Nationals in a couple months," Nina said.
Unknowingly, Zariah Ricks ('24) broke the 300m school record.
"I really wasn't even expecting to perform that well. I honestly shocked myself when I realized I broke the record, I didn't even know what it was at the time," Ricks added.
However, states weren't successful for everyone.
After running his first race, Colby got injured as well.
"I ran the 4X2 first and during that race I pulled my hamstring almost immediately and didn't get to run in any of my other individual races. It was just injury after injury," Colby said.
These injuries didn't only have an impact on the runners sustaining the injuries, but also the rest of the team too.
"Right after I heard the news about all of my teammates it was really upsetting. I just kept thinking, 'I got to do this, I have to perform well.' I ended up thinking about it way too much and didn't place that well. Everyone was just hoping the 4X4 would be the redeeming factor," Matt said.
After the team hoped they had lost enough and was ready to redeem themselves, another runner pulled his hamstring while running the 4X4, leaving the race unfinished.
"I had passed everyone and I was planning on just riding it in, when my hamstrung started to feel tight. All of a sudden I fell off to the side and I couldn't finish the race," Sean Hill ('25) said.
While a few members of the team are still recovering from injuries, and others are celebrating their victories throughout the season, the team has all come together to recollect and put an end to the indoor season.
"I feel like we definitely could have done better as a team. Our performance was fine, but as a team we were all kind of off. Not only this weekend but this season as a whole. We're all just hoping for a better outdoor season and do something different," Sean concluded.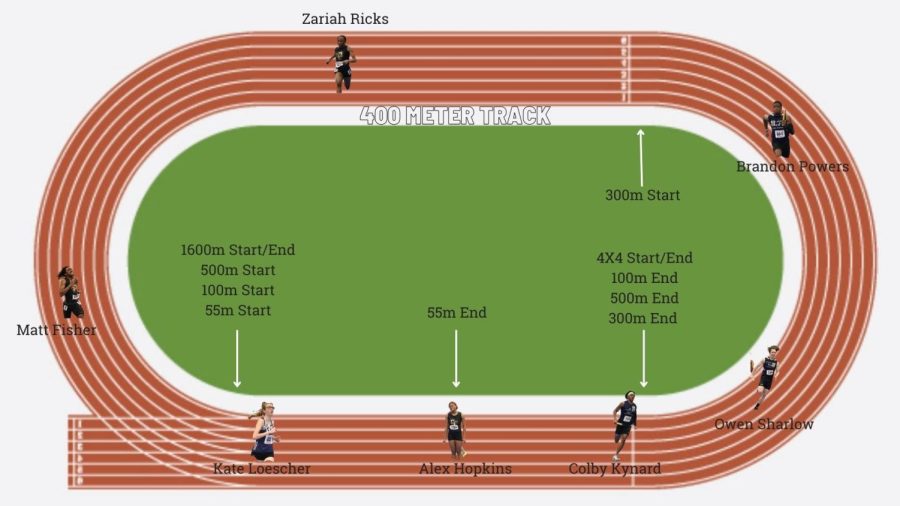 Who Competed:
Alex Hopkins – Class 6 Girls 55m Dash, Class 6 Girls 4 x 200m Relay 

Matt Fisher – Class 6 Boys 4 x 200m Relay, Class 6 Boys 500m, Class 6 Boys 4 x 400m Relay

Sean Hill – Class 6 Boys 4 x 400m Relay

Kate Loescher – Class 6 Girls 1600m, Class 6 Girls 3200m 

Trenton Cross-lee – Class 6 Boys High Jump 

Aleah Alexander – Class 6 Girls High Jump 

Colby Kynard – Class 6 Boys 4 x 200m Relay

Owen Sharlow – Class 6 Boys 4 x 200m Relay

Essence Robinson – Class 6 Girls 4 x 200m Relay

Brandon Powers – Class 6 Boys 4 x 200m Relay, Class 6 Boys 300m Dash

Elijah Thomas – Class 6 Boys 4 x 400m Relay

Zariah Ricks – Class 6 Girls 4 x 200m Relay, Class 6 Girls 300m Dash

Victoria Clark – Class 6 Girls 4 x 200m Relay

Nina Tauriac – Class 6 Girls Pole Vault 

Jackson McDonald – Class 6 Boys 4 x 400m Relay