Cozy Snow Day Recipies
The school is empty, but your stomach doesn't have to be!
Finally, it looks like a snow day is here. Make the best of it with these cozy snow day recipes:
Simple Hot Chocolate:
(adapted from bon appetit)
The traditional hot chocolate taste from your childhood.
3 tablespoons cocoa powder, plus more for serving

3 cups whole milk

6 ounces semisweet chocolate  finely chopped

3 tablespoons granulated sugar

Lightly sweetened whipped cream (for serving)
Bring ¾ cup water to a simmer in a medium saucepan over medium-high heat. Whisk in 3 Tbsp. cocoa powder until no lumps remain, then add milk and return to a simmer. Whisk in chocolate and sugar and cook, whisking frequently, until mixture is smooth and creamy and chocolate is melted, about 5 minutes.
Divide hot chocolate among mugs. Top with whipped cream and dust with cocoa powder.
Mexican Hot Chocolate:
(adapted from Food Network)
In the mood for a hot chocolate with a little kick? Then this recipe is for you.
For stovetop: In a large pot over medium heat, whisk together milk, cinnamon, vanilla extract, and nutmeg. Add chocolate chips. Stir until chocolate is melted. Cover and turn heat to low for 5 minutes.For slow cooker: In a 4-quart slow cooker, whisk together milk, cinnamon, vanilla extract, and nutmeg. Add chocolate chips. Cover and cook on LOW setting for 2 to 3 hours, stirring every 15 to 20 minutes.Serve with a dusting of cocoa powder. Yield: 8 servings.
Tomato Bisque:
(adapted from Taste of Home)
A step up from canned tomato soup, but still tastes great with grilled cheese.
2 garlic cloves, minced

2 tbsp butter or margarine

2 tbsp all-purpose flour

4 cups chicken broth

1 can (6 ounces) tomato paste

1/8 to 1/4 tsp cayenne pepper

1 cup half-and-half cream
In a medium saucepan, saute garlic in butter. Stir in flour until blended; gradually add chicken broth. Stir in tomato past and cayenne until well blended. Bring to a boil; cook and stir for 2 minutes or until thickened. Reduce heat; gradually stir in cream. (Do not boil.) Serve immediately.

 

Yield: 

6 servings.
Beef Stew
(adapted from Genius Kitchen)
Warm and delicious, this is the perfect stew for a snow day.
1 1⁄4

lbs sirloin tip roast, cubed

2 

large potatoes, cubed

3 carrots

, sliced

1 onion,

 chopped

1 

tsp salt

1 

tsp pepper

1 

tbsp Worcestershire sauce

1⁄2 

cup flour

1 

tbsp olive oil

3

(16 ounce) cans broth
In a medium mixing bowl put flour and teaspoon each salt and pepper, mix. Toss the beef cubes in the flour until coated. In a soup pot heat the olive oil over medium high heat until the oil blooms. Reserving the extra flour in the bowl, add the meat to the soup pot and cook until the meat is browned on all sides. Add carrot, onion, and potatoes to pot sprinkling the remaining flour over the veggies to coat. Mix the meat, veggies, and flour thoroughly and cook for 3-4 minutes, or until veggies start to soften. Add all three tins of beef broth and bring to a boil. Boil until veggies are tender, add the Worcestershire sauce, season to taste with salt and pepper. Yield: 5 servings.
Buffalo Chicken Dip:
(adapted from Taste of Home)
Spicy, creamy, and warm, this dip is a great snack fro the whole family.
1 package (8 ounces) cream cheese, softened

1 cup cooked chicken breast

1/2 cup Buffalo wing sauce

1/2 cup ranch or blue cheese salad dressing

2 cups shredded Colby-Monterey Jack cheese
Preheat oven to 350°. Spread cream cheese into an ungreased shallow 1-qt. baking dish. Layer with chicken, wing sauce and salad dressing. Sprinkle with cheese.

Bake, uncovered, 20-25 minutes or until cheese is melted. Serve with baguette slices, celery, or tortilla chips.

 

Yield: 

16 servings.
Snicker Doodle Cookies:
You can't go wrong with a classic cookie.
1

 

cup

 

butter

 

softened

1 1/2

 

cups

 

sugar

2

 

eggs

2 3/4

 

cups

 

flour

2

 

tsp

 

cream of tartar

1

 

tsp

 

baking soda

1/2

 

tsp

 

salt

2

 

tbsp

 

sugar

1 

tsp

 

cinnamon
Mix together flour, cream of tartar, baking soda, and salt together. Set aside. Cream together sugar and butter. Add eggs and blend well. Add dry ingredients to wet ingredients and mix well. Shape dough into 1 inch balls and roll in the cinnamon-sugar mixture. Place 2 inches apart on ungreased cookie sheet. Bake for 8-10 minutes at 350 degrees. Yield: 3-4 dozen cookies.
Rolled Ice Cream:
Not up for warm food? Try this fun take on ice cream you can make at home.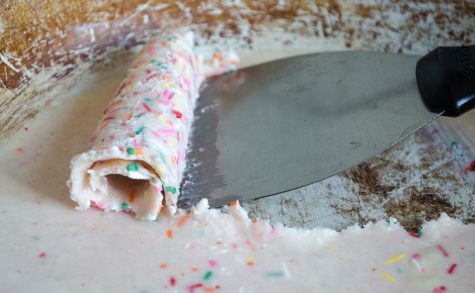 1 pt (480 mL) heavy cream
1 can sweetened condensed milk
1 pinch salt
Sprinkles or other topping of your choice
Whisk the heavy cream, condensed milk, and salt in a bowl. Pour the mixture over a half sheet pan, or multiple quarter sheet pans. Make sure the ice cream base just barely covers the bottom. It should be ¼-inch (1 cm) thick or less. Sprinkle any chopped-up toppings you would like. With a whisk, mix the toppings into the ice cream base to ensure they're evenly distributed. Freeze for at least 4 hours. Make sure to also put your scrapers and ice cream bowls in the freezer so the ice cream doesn't melt while rolling. After the ice cream is frozen solid, remove from the freezer and quickly place the metal spatula/paint scraper at an 45° angle against the edge of the pan, pushing carefully forward. If the ice cream needs a little help forming, use a butter knife to push the sheet of cream into the roll.  Yield: 4 servings.