Young Republicans Soak Up DC
The Young Republicans took a trip to Washington D.C. over Spring Break to visit some of the nation's most famous historical landmarks on, and around, the Mall.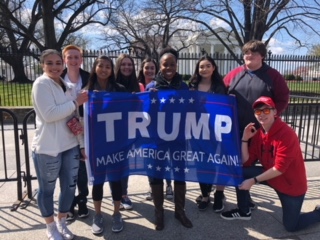 They started the day by walking to the White House to take pictures.
Next, they went on over to the Washington Monument and followed that up with a quick walk to the Tidal Basin to take in the famed Cherry Blossom trees.
After taking a break to eat lunch at the food court inside the Ronald Reagan Building, they set back out to take pictures at the Trump International Hotel.
To close out the trip, they visited the National Museum of American History before heading back home.