Art Attacks the Streets of Fredericksburg
Belly dancers gyrating, a small boy jamming out on an electric guitar, and an opera singer belting an aria were a few of the many different kinds of people and things that were seen and heard performing on the streets of Downtown Fredericksburg. On Saturday, September 22, approximately 200 artists from all walks of life and backgrounds added color and vibrancy to the streets, concentrating as they painted, sculpted, and performed. Generations of artists, both young and old, worked simultaneously in one location. For most of these artists, the street and public is not their typical scene; most usually work in the privacy of their studios.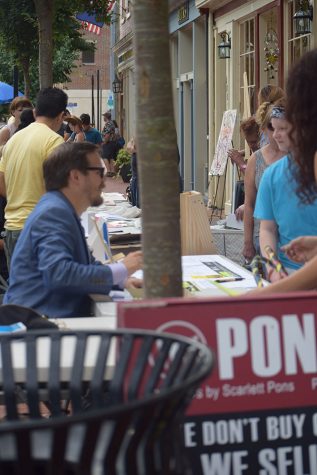 Among these attendees was Victoria Belotti ('22), one of the few young artists from Colonial Forge that participated. She admits her feelings toward painting on the streets for the first time.
"It's fun; scary, because it's judgement, man," Belotti said.
Gabe Pons, one of the event coordinators of Art Attack, weighs in:
"It's the exposure and publicity that's not typical for your daily routine. And that's in fact what I think makes Art Attack most important," Pons said. "That for one day you get the pedestrians; the visitors get to see art being made behind the scenes, and what typically you'd never see because the art is made in a private workspace."
Conquering their nervousness and anxieties, they paint on the streets for the public to see, alongside other artists. Art has brought the community together: not only during Art Attack, but  also with the people in their lives.
"For my wife and I in college, in architecture school, it was a way of being recreationally creative, and that was fun," Pons said. "Over the years we managed to turn our careers into owning that energy of art and design."
Victoria Belotti has also seen the benefits of art as part of a relationship.
"With my older sibling, we just did art together and it was a bonding thing," Belotti said.
Preparation for Art Attack involved lots of coordination between the event coordinators, and time. One of the event coordinators, Seth Casana, explains that it takes months to put together.
"The Fredericksburg Arts Commission, the city's arts group, gave us a grant to cover some of the expenses involved," Casana said. "So that's a process that you have do months in advance because you have to meet their deadlines and it takes a while for the money to come in."
The project entails a lot of effort and time, which includes registering participants and organizing the event.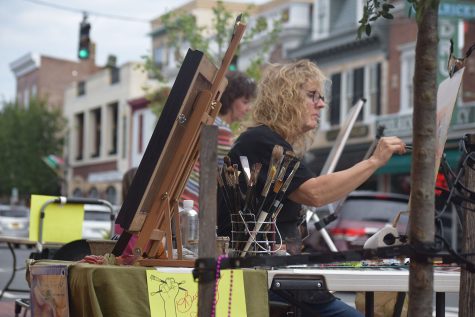 "We're promoting it and registering people 3 or 4 months out, and then the 3 or 4 weeks before it happens there's a lot of running around and getting things together and making sure that all of the plans you've put in place follow through," Casana said.  "It's a lot to make happen, but it's not anything superhuman."
Art Attack was launched six years ago by Gabe Pons and Bill Harris and has expanded since then through volunteers like Casana ,
"When we started it was like 50 or 60 people, and then this year we have 200 artists," Casana said. "The community supporting of what we're doing is really evident in that growth. It can't just be me and Gabe and Bill. That's not Art Attack. Art Attack is everybody in the community doing it."
Casana hopes to see other communities do their own Art Attacks.
"This year we were almost gonna have it be in 5 different cities at once. It didn't end up happening, but I'd still like to do that, where it wouldn't just be in Fredericksburg, but there'd be Art Attack Richmond, Art Attack Charlottesville, Art Attack Harrisonburg, and that they'd be doing their own thing," Casana said. "I think we still hope for next year or the year after."
Seth Casana explains his hopes and vision for Art Attack in the future,
"If that did it, and that built up the momentum, then you'd really see Art Attack become a movement rather than a Fredericksburg thing."