Forge Theatre Wins Sectionals
Austin Fortier, Writer
February 1, 2023
On Jan. 28, Forge Theatre won sectionals at VHSL (Virginia High School League) theater competition, which took place at Gar-field high school.
The competition took place from 9:00am to 1:30pm, with four 35 minute max long shows. Colonial Forge High School, Forest Park High School, Gar-field High School, and Potomac High School all competed against each other in front of three judges. The process began with a five minute walk time, where the cast and crew would check for things like auditorium size, distance of where to project, plugs-ins, anything wrong in the stage, and run through transitions of scenes without the set. Once each show started, the judges would allot points based on their performance, and automatically disqualify those who went over the 35 minute mark.
When all was said and done, the official performance ranking came out, with Colonial Forge winning first place, followed by Potomac High, Gar-field High, and Forest Park High.
The show that carried Forge Theatre to victory was "Celia Project," which tells the story of a young slave woman in the mid 1800s and shows the struggles she faced. Written by Tom Clark, a former drama teacher at MVHS, who adapted it from Celia A Slave by Melton A. McLaurin. The play was adapted by Forge's drama teachers Lisa Cover-Tucci and Jeffery Clevenger for sectionals.
"I was definitely confident we would do amazing, and we did! I had an inkling we would advance, just because our show has so much effort and meaning behind it." Stage Manager Kennedy McNally ('24) said.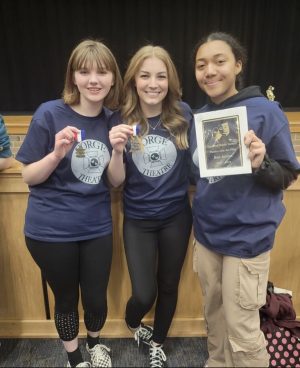 In addition to winning first place, Maya Thomas ('24) won Best Actress Award for her performance as the lead Celia, while two of the supporting actors, Kaedyn Gabriel ('23) and Ashley Barnum ('26), won the Best Supporting Actor Award.
"I was honored to receive the award for Best Actress. The show was a very challenging experience that required me to handle traumatic topics everyday, however I'm thankful for the opportunity." Maya Thomas ('24) said.
With Forge Theatre winning sectionals, they headed to Osbourn Park High School in February with Potomac High to compete for regionals, where they won. Forge Theatre will not head onto states to compete for the crown.
"I was really excited and very proud of the cast and crew, and I guess then the thought is ok, now we got to get to work like you know, that's always the second thought." Lisa Cover-Tucci, the Forge drama teacher, said.