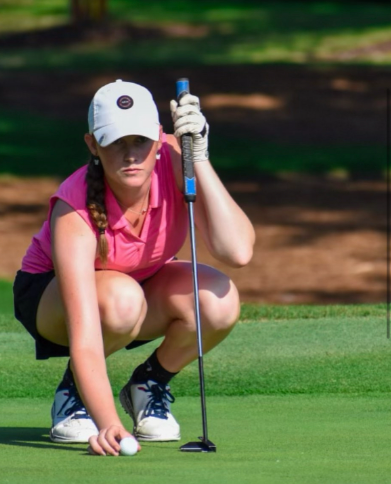 Forge Golf took an impressive first swing at the season and started the defense of the District Title with a 160-164 victory over Mt. View at Augustine Golf Club. The lowest scorer for the Eagles was Makayla Grubb ('25).
"I feel like we could do a lot better than a 4-stroke point lead as a team, but I'm happy we won our first match to stay undefeated. We've won all of our matches since my freshman year and I'm hoping to continue that," Grubb said. 
Grubb has also recently made her commitment to High Point University.
"My journey of committing was actually a lot easier than I thought it would be since it happened so quickly. The university reached out to me the first day they could, which was June 15th, and then we held a relationship until they made me an offer on August 10th."
When deciding where to commit, she claims the decision was clear. 
"I love the team. I love the coach. I love the environment. I mean if you look up the campus it looks like a resort," Grubb said. 
Over the summer, Grubb gained attention from potential recruiters by winning the Virginia State Women's Amateur over the summer. 
"It was a great experience and I feel like I learned a lot from being able to compete with so many other players. I was also the youngest to ever win the title," Grubb mentioned. 
Although she has her plan for college, Grubb is staying focused on this season and the team. 
"My goal for the team is definitely to make it to States. We have a lot of new and existing talent on the team and I hope we can perform this year," Grubb said. 
Whether it's during practice or matches, Grubb can always be found supporting her team.
"Although we don't have a captain, I feel like I provide leadership to the team on some levels. I am kind of a support center for the team when someone has a bad round," Grubb explained. 
Next season, her senior year, Grubb hopes to win more amateur events and continue on to a pro tour potentially. 
"For my senior year, I'm definitely going to reach for a pro tour and just try to get my name out," she said.
However, as far as Grubb can see, competing for a national title in the Notah Begay National Championship in November and making sure the team stays on track is her number one priority. 
"I qualified to premier on The Golf Channel and compete in a national golf tournament in November, which I'm really excited about. Until then, I just want to make sure the team is heading in the right direction and that we stay undefeated," she concluded.