Rumble: The Site for Profitable Hatred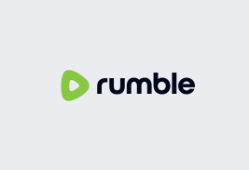 Anyone who denies that there is still racism in our society is either lying to themselves or living under a rock. For centuries, people of color have been persecuted against and profited off, the most obvious of occurrences being the institution of slavery. While slavery was abolished via the thirteenth amendment, recently there has been a new form of profitable hatred: alt-right social media platforms. The platform that is most commonly used for this profitable hatred is Rumble.
Rumble is a video sharing website that is promoted as a YouTube alternative that promotes the ideals of free speech and fulfills a need for "somewhere to go where conservative views won't be discriminated against," as Rumble co-owner Dan Bongino said in an interview with Reclaim the Net.
As a conservative myself, I feel quite conflicted about these platforms. While conservative voices need to be heard just as much as liberal ones, a platform that is purely conservative voices can easily become an echo chamber which will, and has, quickly turned sour.
This protection of "conservative views" essentially boils down to relaxed terms of service. In the Rumble terms of service it states that, "in no event shall the contents of this website be comprehensive, complete or accurate…" and that the company does not bear the responsibility of guaranteeing that "the contents are free from any inadvertent errors," whereas YouTube threatens misinformation as a bannable offense.
On top of this free reign to say whatever you want, there is quite a lot of money that comes along with it. Republican talking head Steven Crowder joined Rumble in early March of this year. While his contract details have yet to be released, it can be inferred that it was an exorbitant amount of money. This can be inferred because he turned down his offer from the Daily Wire on the basis of financials, a contract that was reported to be $100 million dollars over the course of four years.
Crowder rose to fame with his popular "Change my mind" series in which he went onto college campuses in order to debate hot button issues with college students. These videos are quite controversial however as they commonly resort to him talking over his opponent in an attempt to prove his point.
Steven Crowder isn't the only big name that moved to this less restrictive platform, disgraced social media star and current Romanian inmate, Andrew Tate signed a deal with Rumble worth approximately nine million dollars. This is not necessarily surprising as Rumble's daily activity surged 45.3% the week that Andrew Tate joined the platform.
Despite the cancel culture free site having yet to cut ties to Andrew Tate after being taken into custody by Romanian officials in December of last year, Rumble issued a statement following his arrest "strongly condemning human trafficking."  His content is also still consistently reuploaded by others. These reuploaded clips of Andrew Tate by themselves still bring in millions of views for the site and continuously bring in a steady stream of views which in turn bring in more money.
Founder of Rumble, Chris Pavlovski posted a link to his twitter that led to a Rumble video of Andrew Tate's final message with the caption, "Providing a platform for people to speak freely is essential. We are going to do whatever it takes to hold the line for free speech, whether we agree or disagree with what's said."
"
Providing a platform for people to speak freely is essential. We are going to do whatever it takes to hold the line for free speech, whether we agree or disagree with what's said."
— Rumble Founder and CEO Chris Pavlovski
Rumble is not the only website in which spewing hateful nonsense is profitable however. There are other similar sites such as DLive, a Twitch competitor with the same ideals as that of Rumble that at one point had Covid-19 misinformation be reported as the most fruitful content on the site, and Truth Social, the Twitter copy launched in 2022 by former President Trump following his ban from Twitter. While these platforms are less trafficked than Rumble, they still pose an interesting question: "How do you create a safe environment for differing political views without creating an echo chamber for hatred?"