Brief and Gorgeous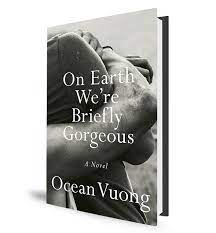 When I started reading On Earth We're Briefly Gorgeous for the first time, I read a few pages and put it down to start another book. The beginning was a bit slow, and it took a few chapters to really get into. It took a four hour bus ride months later for me to finally start it once more.
Once I did, I regretted ever putting it down.
The story is told in letters sent by young adult Little Dog to his illiterate mother, letters in which he tells her all the things he could never say, he doesn't know if she'll ever read them but that's what makes them so impactful. The novel discusses the themes of sexuality, race, and drug abuse while also uncovering the complex history of the other members of Little Dog's family.
Ocean Vuong discusses the ancestral struggle to fit in that has been passed down throughout the generations of Little Dog's family. The book, set in a post-Vietnam War era, and starring the characters Rose and Lan who lived in Vietnam during that time, discusses several themes; consisting of PTSD and what it means to be a survivor.
Vuong, a Vietnamese-American raised in Hartford Connecticut, was already an award-winning poet before publishing his hit debut novel On Earth We're Briefly Gorgeous. Recently the book has been trending on "BookTok," a hashtag on TikTok where book lovers suggest novels, and Vuong's work has not gone unnoticed. If any book deserves the attention of social media, it's this one.
Published in 2019, On Earth We're Briefly Gorgeous is an emotional telling of a story about a gay Vietnamese boy, Little Dog, growing up under the care of his immigrant mother and grandmother, Rose and Lan. The story follows his journey throughout life in Hartford, Connecticut – the place where his mother hits him for the first time, the place where he finds his first love, and the place where above all he discovers his tragic family past which leads to his renewed understanding of what it means to be a Vietnamese American.
Compared to the other popular books on BookTok, On Earth, We're Briefly Gorgeous  refreshingly lacks the unfitting dark romance aspects, which are shared by most of the other books promoted on BookTok. Although the story does touch on one of Little Dog's relationships, it seems to mostly be done in an effort to discuss the struggles people face when coming to terms with their sexuality and the consequences of drug abuse.
It's hard to determine whether or not certain characters are likable, but this novel is written in such a brutally honest way, it doesn't really matter whether or not you like them. None of the characters are great people, because they are people in their rawest form.
Vuong does a phenomenal job expressing what it means to be human, and how no one is just black and white; each character has flaws and each has a past. It's usually easy to be caught up in the fickle details of the wrongs and rights of each character in a work of fiction, but Vuong brings the story to life so that to judge them on their every wrongdoing would be to do the same to your closest friend.
The novel is only 256 pages, and goes by quickly, it's not a difficult read. Although it does cover a lot of deep topics, the format can lead to some confusion for people who aren't used to an untraditional writing style.
As someone who loves third-person omniscient storytelling, the book was frustrating at times, but Vuong definitely won me over by the end through the emotional symbolism the letters offer.
If you're looking for something lighthearted and fun this definitely isn't the book for you, but for those that enjoy gaining another perspective on life or are interested in Vietnamese culture and history, this book is perfect.
Ocean Vuong also posted on May 3 on his Instagram a picture of the finished script for the movie adaptation of On Earth We're Briefly Gorgeous, which he announced in 2020. The movie will be produced by A24, and seeing as they've done a brilliant job with their latest movies, I hope they help do this book justice.
If you're looking for a similar book, A Little Life by Hanya Yanagihara, is a much longer read that touches on similar topics. The book is 814 pages, but well worth the time.