Running Into The Record Books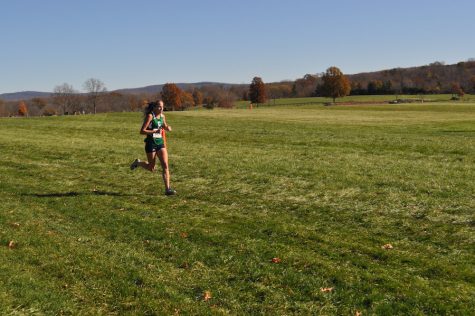 Coming from a cross country team ranked 11th in the nation to an unranked team in the state, Allison Fick ('19) had to step into a different role on her team.
"I would say in Ohio I was kind of a follower," Allison Fick said. "I was not a leader because so many people were already up there."
It didn't take long for Allison to step up and assume the leadership role on the team. As the top runner, she became the clear leader for the girls.
"I feel like I'm a really strong leader and with my attitude and work ethic; I feel like I kind of have brought the team with me this year when they see me putting in the work at practice, and not giving up when it gets hard," Allison said. "I think that makes them also be encouraged to keep going."
For Allison, leading by example is the most important thing, and her actions more than anything else show the team what's possible.
"Everyday at practice I put the work in and give it my all," Allison said. "I think the other girls and even the guys see that and it makes them want to work more. I think the team has really come together this year."
Take it from one of her teammates, Aunnika Stone ('19), who as a returning runner has seen the changes that have happened on the team since Allison joined.
"The actual team unity that we have is because of her, because of how she's pushed harder and so we've gotten farther in the season," Aunnika said. "Now we're all at this point where we rely on each other so much more in these competitions and races like conference and regionals and states, and that's what has kind of brought us closer together."
The coach, Harry Booth, is hoping that Allison's talents will help inspire the team to do bigger and better things.
"Distance running is an awful lot of determination and work over raw athletic ability," Booth said. "Kids on the team have decided if they want to do the work. I hope they allow Allison to show them how to do it."