Rapp Rocks: A Rocky Review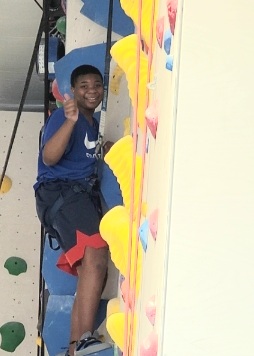 Micah Mallard, Writer
February 16, 2023
Rapp Rocks is a rock climbing gym located at 11050 Pierson Dr. Suite 103. Although it has a modest exterior, the gym has a large but welcoming interior. The prices consist of $25 for a youth pass, $35 for the adult pass, and $19-$29 depending on if you buy the auto belay pass.
The employees create a welcoming atmosphere and are willing to instruct on how to climb the wall properly, which path a beginner should take first, and help with difficulties with putting equipment on. The gym also gives a non-competitive atmosphere.
Depending on your rock climbing experience, beginners should start at the right side with the auto belays, but more experienced climbers can try the left side which involves bouldering.
My tip for beginners is to find your footing on the selected path to determine if you should go up your path or find another. The same can be said for bouldering, but try starting on the non-angled paths and later attempting one of the angled paths when you're more experienced.
There's also a rating system to determine how easy or hard the course is, with the bouldering side going from v0 to v10 and being color-coded with purple being the highest and red being the lowest in difficulty.
Overall, I loved the casual atmosphere, respectful staff, the gym is an easy start for beginner rock climbers and boulderers, and challenging climbs are available for more experienced climbers. My only complaint is that the gym can get crowded at times, so I recommend either coming during the weekdays or early or late on the weekends.