New Shops Coming With the Expansion of Embrey Mill Town Center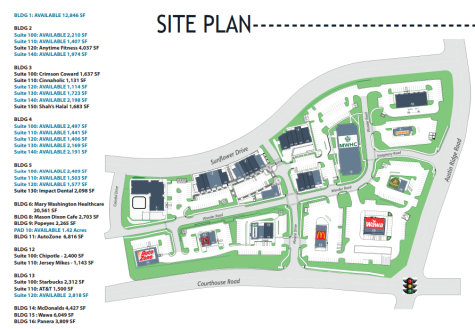 The empty patches of dirt by Publix have finally begun the transformation into what will now be known as the Embrey Mill Town Center. Stage 2 is yet to begin but Stage 1 is well underway. The most exciting being the upcoming Chipotle.
After telling a group of students about the Chipotle being constructed, I was met with joyful jumping and the rhetorical question "Are you serious? Really?"
And the news is true, amongst other exciting developments there will be a Chipotle put in, as well as several other establishments, such as an Anytime Fitness and a Shah's Halal.
Chipotle
Chipotle is finally coming to Virginia with a drive-thru.
To get your food, you put an order into the mobile app and pay in advance. Then all you have to do is drive up to the pick-up lane and receive your meal in a quick transaction.
"I'm really excited there will be a drive-thru because the line takes so long and the restaurant is so tiny and loud. Now I can sit in the comfort of my own car while I wait instead which is like ten times better," Caroline Stocks ('24) said.
Cinnaholic
From a small bakery in California to ABC's Shark Tank, to a popular franchise in both Canada and the U.S, these vegan cinnamon rolls should make a welcome addition to the Stafford area. Especially since currently the nearest Cinnaholic is in Maryland.
The menu boasts cinnamon rolls with over 20 flavors of icing, including Caramel Applie Pie, Cookie Monster, and Campfire S'Mores.
"I'm excited to have more vegan options in the area especially since I used to live in California. They are so common there so it was kind of upsetting. It was kind of upsetting to see a lot less here. It makes it a lot harder to eat out, say if my parents go out and I want to go with them. They kind of have the struggle of being like, 'Hey what can my kid eat?'" Exit Vernon ('25) said.
If you aren't a fan of cinnamon rolls, they also offer almost every other desert you can think of: brownies, cookies, edible cookie dough, and cakes made from cinnamon rolls or cookies. Prices range from the $45.00 Cinnacake to the $3.99 Baby Buns.
Anytime Fitness
Although the Rouse Center is close by, the addition of Anytime Fitness should be a welcome addition. This gym seems to have a considerable amount of equipment and machines for use.
"I actually have gone to an Anytime Fitness before, and I like it. I do mostly home workouts but if there was a gym like that nearby I would definitely get a membership. I've been meaning to join a gym so I think once it's built, I'll start going there," Sophia Ronsholdt ('25) said.
Jersey Mike's
For athletes especially, Jeresy Mike's provides a good alternative for fried food when you are in the mood for take out. It seems like the new center is encouraging the health of others with a new gym, sub place, and vegan desserts.
"Jersey Mike's is my favorite sub place to get me a sandwich now and then. I hate Subway.  I'm super excited that they're this close because I go to Embrey to play lacrosse a lot, so now I'll have someplace to eat with my friends and stuff afterwards," Tanner O'Neil ('25) said.
Starbucks

Which Are You Most Excited For?

Sorry, there was an error loading this poll.
Apparently, there can never be enough Starbucks. But this one is different. Yet again, the developers of this town center have graced us with another drive-thru. I'm not a fan of coffee myself, but if this means I can get a cake pop with minimal human interaction, I'm in.
As for coffee fans like Hosnia, there couldn't be better news.
"I get really excited in the mornings about my Starbucks. If I get it in the morning it just means I am going to have a great day," Hosnia Tarin ('24) said.
Shah's Halal
Originally a singular food cart, Shah's Halal provides a variety of halal food on its menu. They offer lamb over rice, kofta kebab on pita, and chicken cheese steak.
Halal food is food that has been prepared and handled in accordance with Islamic law. It can't contain blood or alcohol, or be prepared with it. Halal food also is absent of food like pork, reptiles, birds of prey, and carnivorous animals.
Daycare
Although no contracts have been signed and nothing confirmed, there are plans for a daycare to be put in. This will obviously be helpful for anyone with young children in their care and aren't able to make the far drive to The Merit School.
AT&T and Auto Zone
The openings of these companies in our area will provide convenience to any phone or car services needed.
And one last thing…
Similar to the situation of the daycare, no decisions have been made final but it will be a  freestanding restaurant with outdoor seating.