Boys Lacrosse Aids Scouts for Service Project
Boys lacrosse swapped their sticks and helmets out for paintbrushes and screwdrivers on Nov. 19 to help their teammate with his Boy Scouts service project.
"Coach Dowd originally came to me with the idea and I decided to go with it because I wanted to choose something that would help the team get better." Will Wier ('25), the boy scout and player who organized this project, said.
The goal of the project was to improve the facilities of the practice fields by repainting the old shed that contained everything from practice equipment to a family of bats. They also built and painted a wall-ball practice wall next to the shooting backstop which helps players work on basic skills like catching, throwing, hand-eye coordination, and reflexes.
"I think the wall-ball wall is a super smart idea, it's a great resource to have access to and I believe it will be very beneficial," Luke Murray ('25) said.
The players have a special bond like no other team. Despite the day being a cold Saturday morning, approximately 30 players showed up. Not only to support their teammate in his service project but their whole team by providing tools for many lacrosse players to come and help.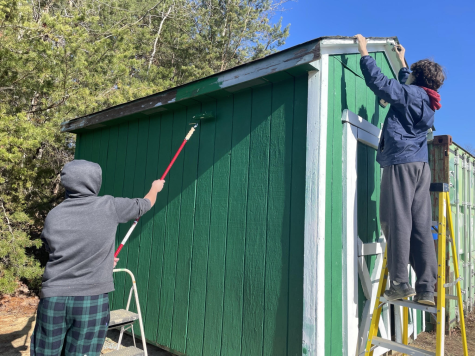 "We were all super happy to help because that's just the kind of team we are, someone needs help you help. No questions asked." Tristan Snyder ('25) said.
Outside of the team, around 25 boy scouts showed up to assist Will in his project. Even though the project had little to do with them, his fellow boy scouts were eager to help and more than willing to lend a hand for a good cause.
"I was only expecting about twenty people from the troop and Lacrosse team to show up, but it was closer to forty, I was pleasantly surprised." Will Wier ('25) said.