Vinson Logan Breaks The 300m School Record
You wouldn't be able to know it from his reserved demeanor, the success Vinson Logan ('18) has had on the track. He just recently broke the school record in the 300m dash and went to states for the same event on top of being part of a nationally qualifying 4×200 meter relay.
"It felt great [to break the school record]," Logan said.
Despite smashing his own personal record in the 300m of 38.02 seconds and bringing it down to 35.81 seconds, there was still an underlying feeling of dissatisfaction after the season's end.
"All three [meets] went well. I just wish I would have done better at states," Logan said.
These types of endings only serve as fuel to the fire, as he has big goals looking ahead.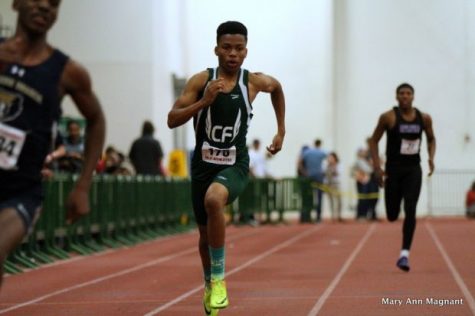 For spring track, he would like to qualify again in an individual event for states, as well as running a 10.95 seconds in the 100m; however, his goals do not stop there, especially for senior year.
"[I want] to become a state champion in indoor and outdoor track and make nationals again for both indoor and outdoor track," Logan said.
Reaching these goals takes a lot of hard work and brutal workouts to get there, but Logan keeps himself and his teammates encouraged throughout practice. 
"He has helped the team by pushing us to do our best and he motivates us through every workout," teammate Edward Deskins ('19) said. "Vinson has an outstanding work ethic."