Operation Mending Mindset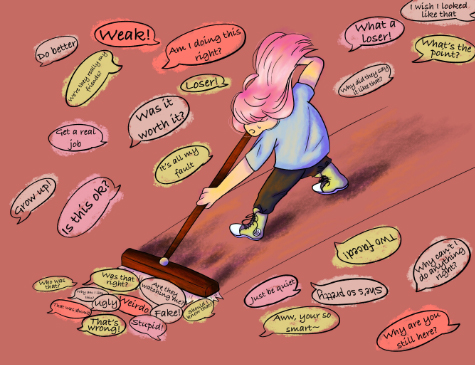 With students coming back into the building, after a fully virtual learning experience last school year, the school mental health professionals are striving to eliminate that stress in this upcoming school year. Operation Mending Mindset (OMM) is a nationwide group that aims to address the anxieties that come from the transition from online schooling to in-school learning. 
"A lot of kids are very anxious about returning to the building, we're noticing that anxiety and are trying to be preventative and proactive," Robinson said. OMM is run by school social worker Ms. Rashana Robinson and school psychologist Ms. Cashala Thomas, school counseling director Ms.Becky Shay, and school counselor Mr. Jacob Wolff.
Anxiety is different for each student. Making new friends and taking new classes can all lead to students feeling overwhelmed. March 1st was the first meeting of the group that will span over the next 6 weeks. The meetings start before school for 45 minutes, and students must have their own transportation. It focuses on social, academic, and emotional needs among students. 
"I was looking forward to it because I felt like it was going to be a comfortable environment. The leaders were very open with talking to us and making us feel like our voices were heard" said Alex Njie ('22).
OMM teaches high school students to overcome their struggles. Through this program, students learn how to cope and understand their anxiety, rather than just ignoring it and letting it pile up.
For students wanting to sign up for this program, the counseling team sent out an interest form. These forms are to have the students identify what help they think they could be needing. More emails should be coming out in the future. 
"Anybody can sign up for it, we look through the forms and screen out students to talk to them and figure out their needs, and based on that we figure out whether this group or other group would be beneficial to them," Thomas said.
"Not all of us can get into therapy, so utilizing the resources on the Operation Mending Mindset website, googling mindfulness, meditation, or just watching YouTube videos on coping strategies is something we encourage," Robinson said. 
Students should have a safe place to go in times of anxiety. Operation Mending Mindset (OMM), strives to give the students who need it a place to talk about these stresses in a healthy environment. 
"What the goal is to help reflect on what they have and haven't done and to give insight to other students. Talking amongst the student body, being open about mental health is so taboo. I think it's important for us to normalize something society, in general, struggles with." Robinson says.